Taipei Marriott
Hotel
Conveniently located on the southern side of the capital city of Taiwan, the Marriott hotel is just 10 minutes taxi ride from Shilin Night Market.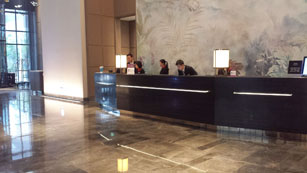 A large modern purpose built hotel it is in the middle of the Dazhi district which is home to a curious mix of commercial buildings and hotels. With the Miramar Ferris Wheel just around the corner, and a fire station one block down the road it will appeal as much to families with kids as to business travellers.
It is possible to reach the hotel from the airport by a half hour drive. And that drive avoids the city center, which is a plus regarding reality and avoiding traffic jams.
Wide avenues and a modern grid pattern of roads around the hotel make for unconfusing driving if you are hiring a car, and when you arrive at the hotel, it is easy to see as it stands back from all other buildings.
Checking in at the hotel is fast and simple and rarely busy as the hotel is itself quiet, perhaps because of its newness. Corridors in the floors with rooms still had a distinct "new carpet" smell when we visited in Oct 2016, though the restaurants and reception seemed to be running smoothly and there were no startup issues.
From the hotel's rooms themselves, there are great views of this open part of the city. You can see the city center in the distance and may also glimpse the botanical gardens from your room.
Although not located near any particular tourist attraction, Shi Lin Night Market is one of the few close-by ones, the efficient public transport of Taipei means that this hotel is still a good choice for vacationers.
Business travellers who have meetings at Neihu Technology Park, Nangang Software Park or Taipei World Trade Center Nangang Exhibition Hall will find the hotel's location particularly convenient.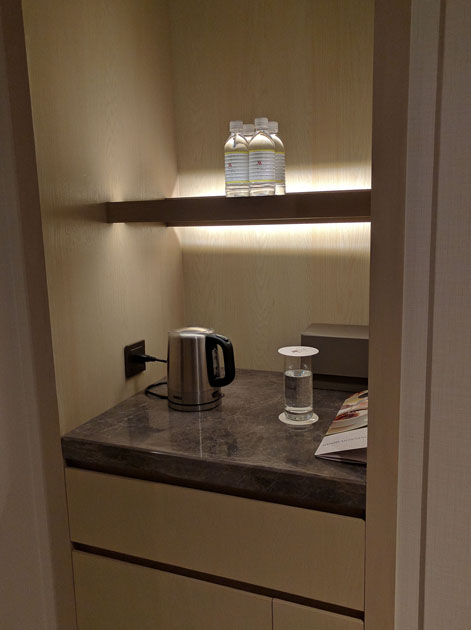 Inside the rooms, you'll find all the expected modern conveniences you expect from a 5-star hotel that caters to both business travellers and families.
A kettle in the small niche next to the bathroom comes with a selection of tea and one-use drip coffee packets that perked up the morning nicely. While the empty mini-fridge and complimentary bottled water were refreshing not just literally, but metaphorically in that, there was no feeling of being ripped off by excessively expensive snacks in the room.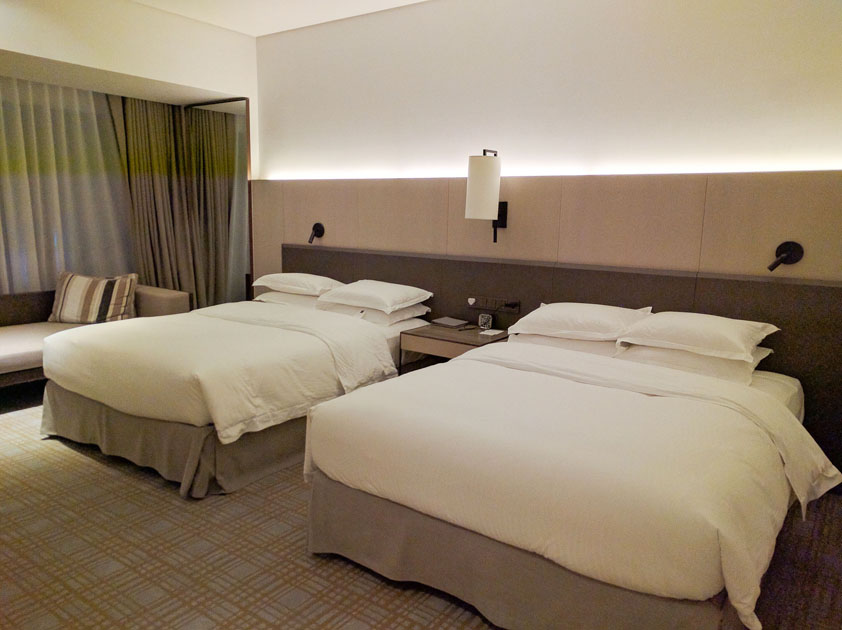 Perhaps the ubiquity of convenience stores all around Taipei, and within moments walk of this hotel, has put and end to the days of overpriced Pringles and Chocolate bars in hotel fridges?
A big wardrobe with proper wooden hangers provides ample space for your luggage and contains the ubiquitous mini-safe. The safes in the Marriott do suffer from the annoyance that they don't remember your PIN. A security code has to be specified every time the safe is closed, which means more and more chances to enter one incorrectly and end up locked out of your passport and valuables!
The large double beds in the room were comfortable and had perfectly fresh, with a good supply of medium soft pillows. Although the rooms are refreshed every day there was never any sign of house-keeping, it was particularly discrete and invisible as you might want.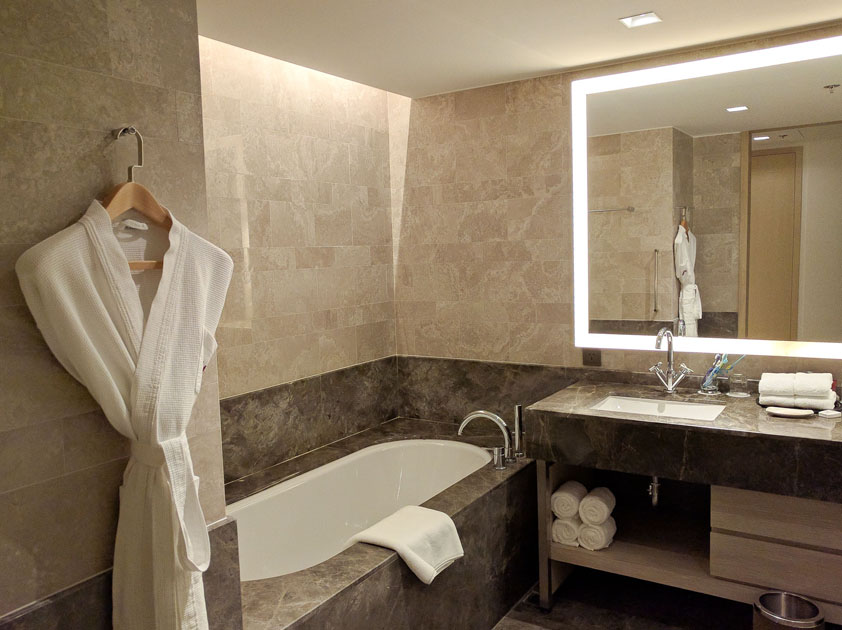 The bathrooms are particularly nice with a tub, shower stall, double sink and enclosed toilet stall. Modern fittings in the bathtub avoid the taps-at-the-end problem and invite couples to take a friendly dip together. Towels and toiletries were all pleasant though not extraordinary and while perfectly acceptable for a city hotel might look a little weak if compared with what you mind find in a restore hotel for the same price.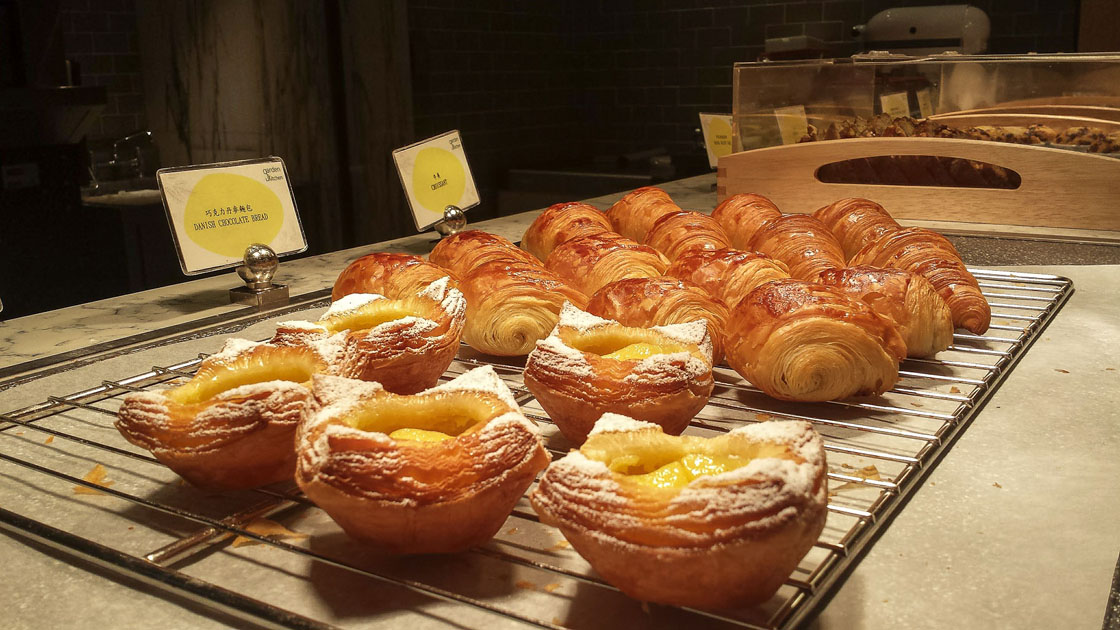 Breakfast is served in a "Garden Cafe" which is a proto-typical hotel cafe, with a good range of buffet breakfast items from European baked goods through Japanese miso soup etc to local Chinese favorites. Anyone paying the TWD750 (US$25) for the full buffer breakfast will find themselves well satisfied and have their day off to a well fueled start.
Other dining options within the hotel include: a very quiet lobby lounge, a Japanese Teppanyaki restaurant, a Chinese restaurant and a western Grill on the 20th floor. Strangely the Chinese restaurant, unimaginatively called simple The Dining Place, focuses on Cantonese and Sichuan dishes. If you want to taste real Taiwanese food then you'll do much better spending your time and money at the Shilin Night Market than in the hotel.
Address: 10491, Taiwan, Taipei City, Zhongshan District, Taipei
Telephone: +886 2 8502 9999
Website: http://www.marriott.com/hotels/fact-sheet/travel/tpetm-taipei-marriott-hotel/
Tips:
The list price for Wifi is high, but most packages include complementary wifi. Check before you book!
The hotel is not within easy walking distance of the MRT (subway) so expect to take Taxis
Parking at the hotel is free for guests